Control Your Web Application's Fluid.app Icon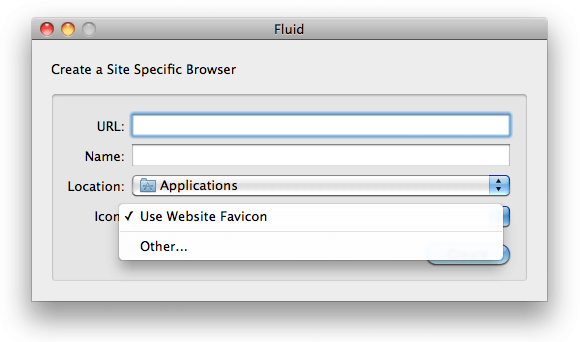 Fluid.app is an nice Mac application for creating desktop applications that wrap a web application. All you need to do is give Fluid.app a URL and a name, and the application generates a .app file within the Applications directory. One other piece of information you can give Fluid.app is the application icon; the default icon being the website's favicon. If you have a web application which could act as it's own desktop application, it's good to be aware that some users may be creating .app's of your site. Did you know that there's a way that you can tell Fluid to use an alternate icon (other than the favicon) for the generated app? It's as easy as adding an additional LINK tag:

<link rel="fluid-icon" href="https://github.com/fluidicon.png" title="GitHub" />

Set the rel to fluid-icon, the href to the high-res image location, and the title to the proposed application title and you're done! Check out GitHub's source to see this tag in "real world" action!
I love when I spot tiny snippets like this that help to enrich your website whilst not taking a lot of time to implement. Other such tips include Facebook Open Graph tags, META Tags to Bookmark Sites on IOS, Overriding XP and Windows themes, and Chrome Frame activation.