Toggle Element State with Google Chrome and Mozilla Firefox
It's much easier to debug CSS than JavaScript since there are many fewer interactions in CSS, and they are much easier emulate. Still, element state debugging isn't simple...until now. Google Chrome's WebInspector and Mozilla Firefox's Firebug have a really sweet feature I just discovered which allows the developer to apply element states for the sake of debugging.
Chrome's WebInspector
The image above displays Chrome's "Toggle Element State" button, allowing developers to toggle CSS states via checkboxes.
Firefox's Firebug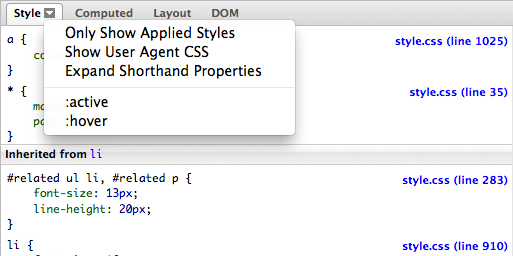 The image displays Firebug's likewise menu, triggered by the down arrow on the CSS tab for an element.
This allows active CSS state bugging vs. simple CSS explorations to be much, much easier. Happy CSS debugging!