The Truth About Growing Up
There's a harsh reality: we're "grown ups" these days. Every once in a while, however, I see an image that takes me back to my childhood. My childhood was full of sports and video games and I can't help but smile on those days. I became a "professional" coder at 20 years old but began teaching myself coding at age 14. When I started I couldn't stop, so while I continued playing sports, I now look fondly back on the time when I didn't know coding. I was always outside, I was skinning up my knees and elbows and l loved it. I was doing stupid stunts on my bike and getting into the usual young child trouble.
When I saw the following image, I was instantly taken back to my pre-computer days: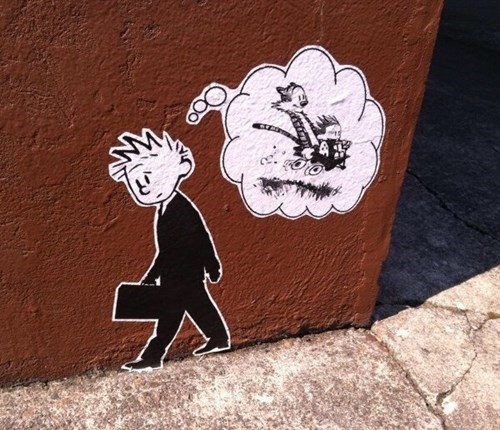 That image hit me real, real hard. Calvin & Hobbes is a weak spot of anyone my age (now 31) -- that comic still represents a joyful look at the innocence of being young and the care-free, future-free state that comes with being young. A big part of the feeling comes from having a "Little Calvin" in my life -- my 1 year old son Jack.
Now that we are professionals, it's a good time for us to reflect on an image like this and consider if we're happy with where "Big Calvin" has gone and how we can keep "Little Calvin" playing inside of us. For some of us it's ensuring we're on the cutting edge of our job, for others its taking care of business at work and then seeking adventure on the off hours. For me it's a bit of both.
I'd love to hear your thoughts on this image and how it applies to you and your career. Where is the "Little Calvin" inside of you?