monday.com: the Total Team Management Tool

Whether you're a solo freelancer, an open source team, a large company, or a worldwide organization, having a consistent and usable team management tool is the difference between a well oiled machine and chaos.  Managing people, projects, tasks, payments...there's always so much going on!  monday.com has the perfect team management tool: easy to use, all-encompassing, flexible, and ready for you to try out today!
"We are determined to bring the quality and ease of use typically reserved for consumer products to the enterprise. To effectively change how teams work, they must actually love the tools they use and that is our goal in building monday.com. We continue to see incredible results from the change the platform inspires in the workplace and the widespread cross team adoption as a result."

Roy Mann, CEO monday.com
Quick Hits
monday.com is a complete team management tool
monday.com works for a freelance team of two up to a worldwide organization
monday.com features an elegant, easy to use interface
monday.com isn't just for tech companies; the intuitive design, uniquely flexibly structure and exceptional scalability has driven widespread appeal across over 200 business verticals, from tech-savvy to non-tech savvy alike.
monday.com provides useful UI elements as well as integration APIs
With offices in Tel Aviv and New York, monday.com's tool is fully customizable to suit any business vertical around the world, from over 140 countries.
monday.com currently has over 35,000 teams, from startups to Fortune 500 companies, including Discovery Channel, Wix, NBC, McDonalds, and Uber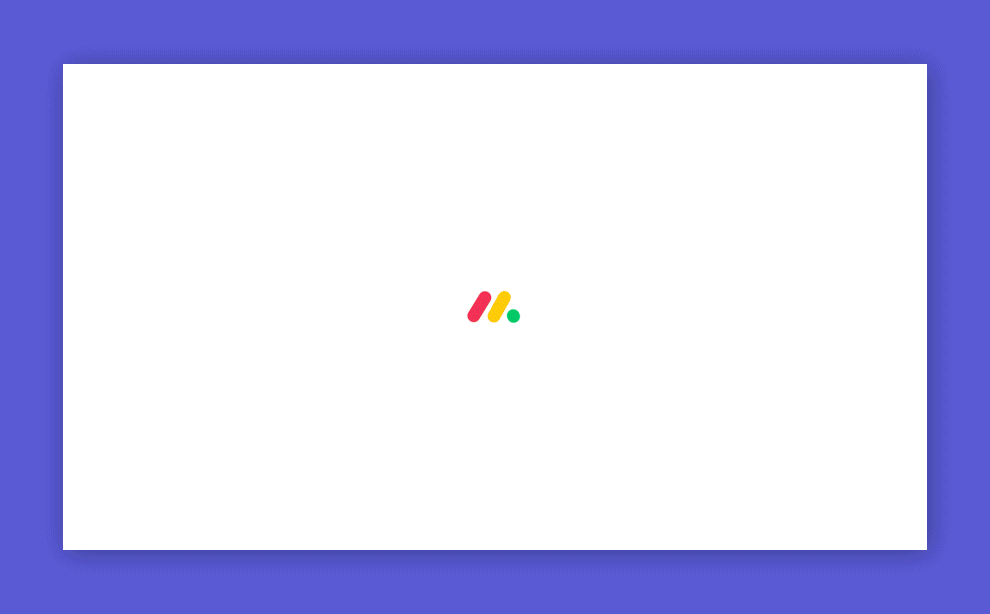 monday.com is a team management platform designed to connect people to processes while creating an environment of transparency in business. As a web-based SaaS company, monday.com facilitates a more efficient and intuitive way to manage teams and entire operations.
Much of the management is done via "boards" which are created from customizable templates to best manage their respective topics: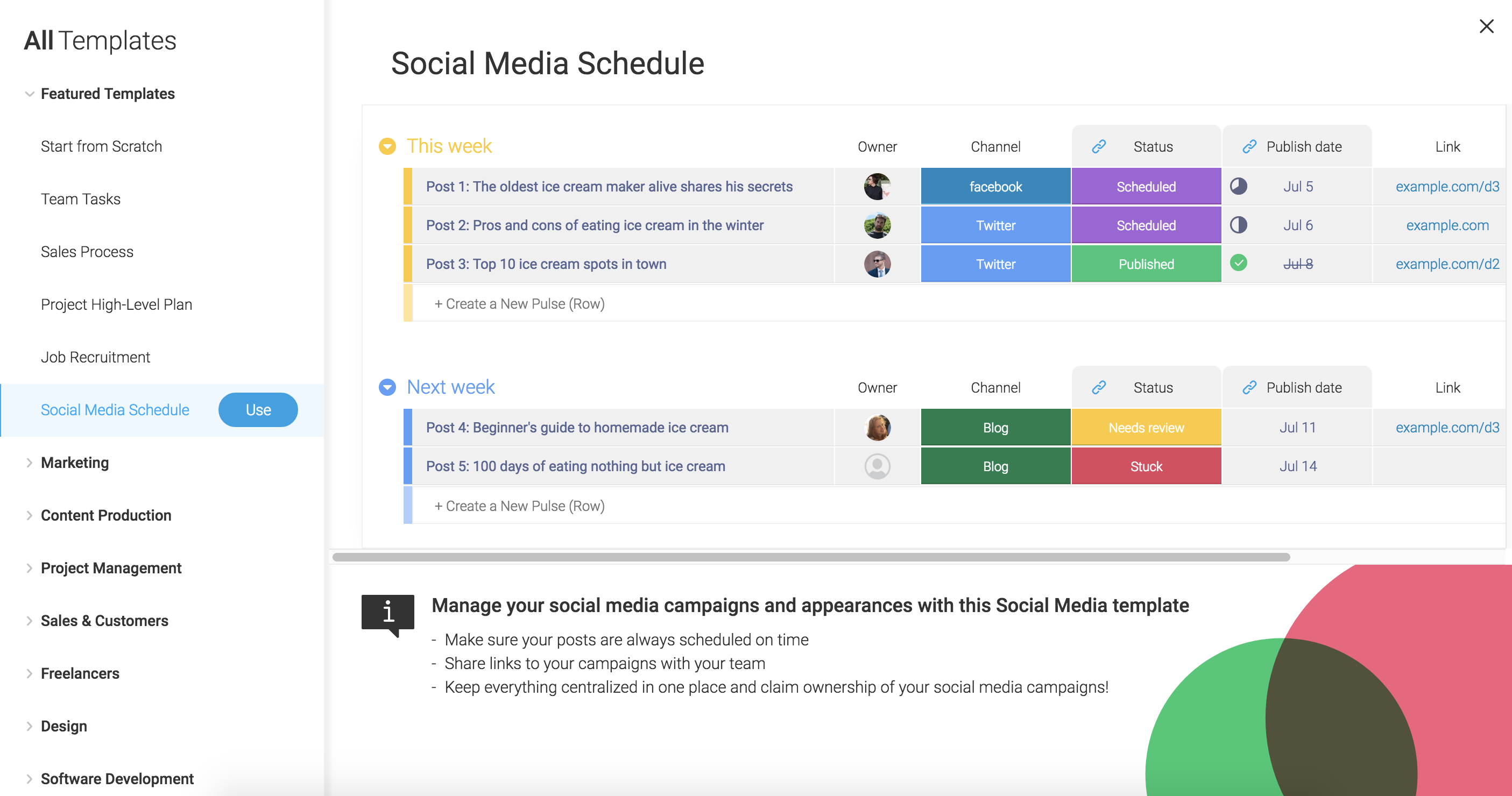 Every member of the organization benefits from these templates: project managers, engineers, social media managers, HR persons, marketing team members and so on -- monday.com's infrastructure ties people together with tasks and statuses, regardless of where in the organization they work.  And since the templates are so easy to manage and are flexible in creation, each board is to the point and easy to read.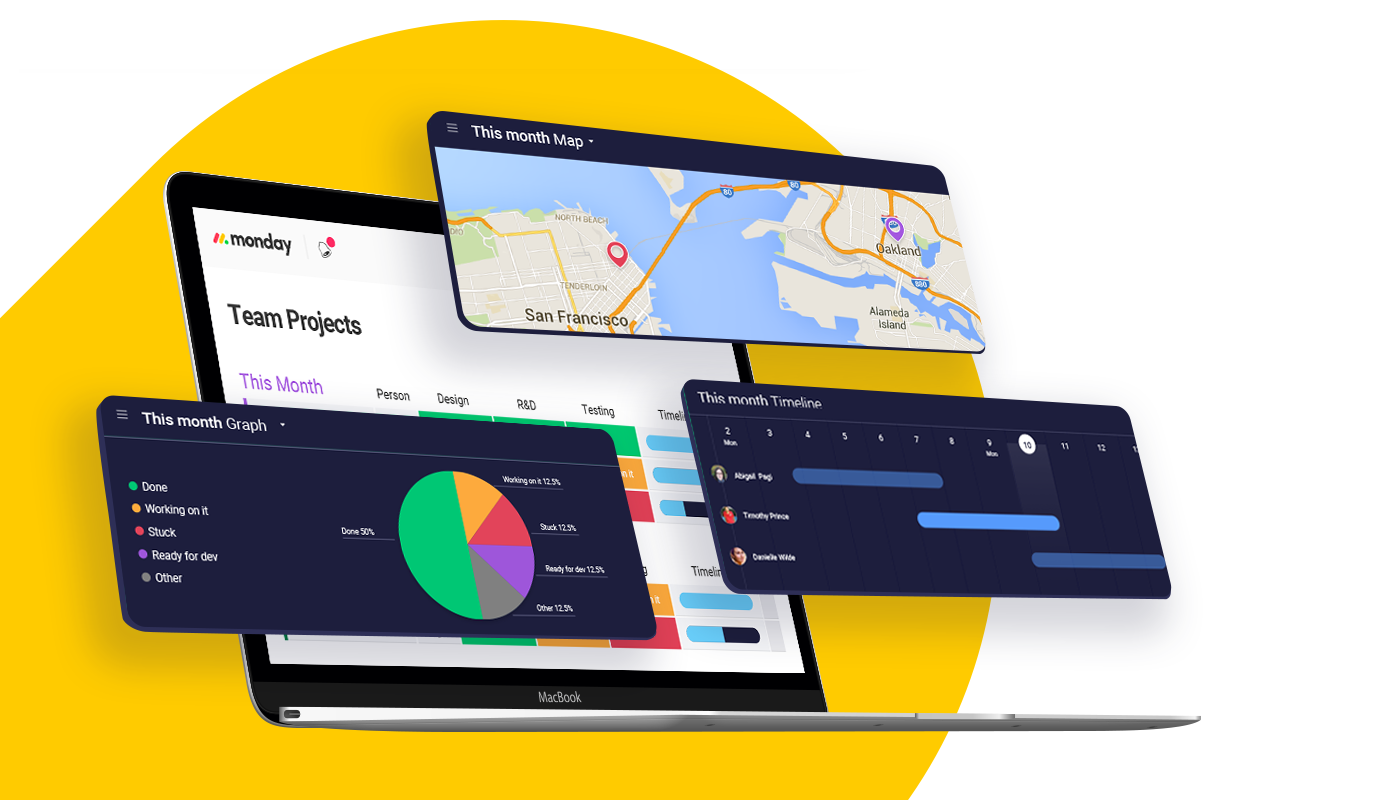 Notable board templates include:
Scrum sprint planning
Blogging planning
Job recruitment
Social media schedule
Sales tasks
Office operations
Notable other features:
Integrations:  Excel, Trello, Google Calendar, Dropbox, Google Drive, Slack, and ore
Security:  Require 2FA and manage user permissions
APIs:  Automate numerous boards and tasks via a powerful API
Mobile Apps:  Use monday.com from any device
Alerts:  Get desktop alerts for one of many events
New Features!
monday.com recently launched three transformational new product offerings today that will further expand the platform's ability to manage the core of any business and eliminate silos in the workplace. The new features will enable users to further customize the perfect workflow for their team without an arduous development process.
Introducing:
The Column Center: An addition of 15 new functionalities to the essential structure of the platform that facilitate any sort of data input such as time tracking, creation log, location views, and more
Board Views: A new way for teams to visualize, understand and extract data from the platform, all while increasing engagement
monday.com Stories: A community of monday.com users where use cases and best practices can be shared across over 200 business verticals
With monday.com's ability to move quickly due to a solid infrastructure, they're able to quickly implement new features!
I'm usually pretty suspect about team management tools because many of them try to do too much; monday.com seems to have perfected the right mix of features while doing them all really well, with awesome user experience and a customization abilities.  I was blown away by the capabilities of monday.com; give them a look today!