Multiple Homepages in Mozilla Firefox
With all of the websites I frequent at work, I'm always opening the same tabs over and over when I get on the clock. Annoying to say the least. You can imagine my joy when I figured out how to have multiple homepages in Firefox.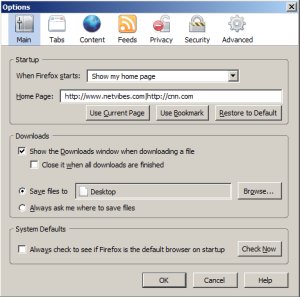 The Execution
Step 1: Fire up Firefox.
Step 2: In the main menu, go to Tools -> Options
Step 3: In the Startup tab, enter your desired homepage URLs separated by pipes in the "Homepage" box.
The only downside to using the multiple homepage system is that every hompage opens when you click the "Home" button.