Giveaway: OSCON Austin, May 8-11!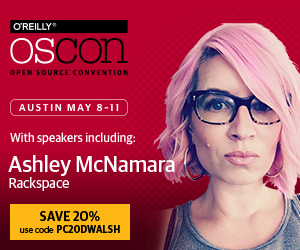 O'Reilly's amazing OSCON is coming to Austin, Texas from May 8-11th, 2017.  OSCON celebrates open source, the community, and the driving forces for open source software on the web.  We've all used open source software and many of us have contributed to those open source projects.  OSCON gives you a chance to meet and listen to like-minded people in the community.
Giveaway
O'Reilly is giving a free pass to one of my awesome readers!  All you have to do is leave a comment below mentioning the first open source project you contributed to.  My first open source contribution was to MooTools and I look forward to hearing what your first contribution was!
Discount
O'Reilly has also given me a 20% off discount code to OSCON!  Use `PC20DWALSH` to get a 20% off discount on this or any other O'Reilly event!
In-Person Training:  Practical microservices: Technologies and Techniques
Join Sequoia McDowell for a hands-on, in-depth exploration of microservices. In this course, you'll learn what benefits a microservice architecture can bring your organization and how microservices can make your applications faster, more scalable, less expensive to run, easier to update, and more secure!