OSCON – May 8-11, 2017 – Austin, TX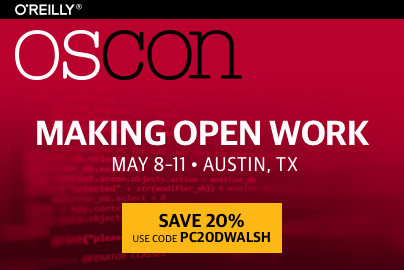 Open Source has been a huge part of my career, from my blog to much of the work I've completed at SitePen and Mozilla.  Even if you don't have much time to devote to open source projects, at the very least you've probably used dozens of open source apps, libraries, and frameworks.  Open source has always been something to celebrate and on May 8-11 in Austin, Texas, O'Reilly is doing just that.
O'Reilly's OSCON is a massive convention focusing on bringing the software, the organizations, and the people together.  Whether you want to network, find a pet project, or learn about the amazing projects you've not heard of yet, OSCON is a gem of an event you should have a look at.
Better yet O'Reilly is giving my readers a 20% off discount with the code PC20DWALSH.  Go enjoy the code, the people, the organizations, and an exciting week in the middle of the open source world!