5 Awesome New Mozilla Technologies You've Never Heard Of
My trip to Mozilla Summit 2013 was incredible.  I've spent so much time focusing on my project that I had lost sight of all of the great work Mozillians were putting out.  MozSummit provided the perfect reminder of how brilliant my colleagues are and how much of a n00b I really am.  I'm willing to bet you've not heard of these excellent projects, but you certainly should take a moment to explore them and be blown away!
Shumway
The Shumway project is an effort in parsing and rendering SWF files natively within the browser using HTML5.  That's right:  the ability to play Flash SWF's without requiring Adobe's software.  This project was showcased at Mozilla Summit 2013 and people were standing and applauding.  Flash games were displayed running with Shumway, and while the project is still in its early stages, the demonstration was fluid, elegant, and completely functional.  Keep your eye on this project as it moves forward; it's a brilliant idea and the execution to this point!
AppMaker
Firefox OS is the exciting new kid on the mobile OS market and for good reason:  no need for another native language, lower cost to developer software, lower cost for hardware, and everything is based on web standards.  To further simplify the process of app creation, Mozilla has created AppMaker, a WYSIWYG open web app creator.  AppMaker allows you to drag and drop app controls, bind them to actions, and export your app.  Just another way Mozilla makes open web app easier!
Mozilla Brick
Mozilla Brick is an extension of the x-tags project.  Brick is a bundle of reusable UI components created to enable rapid development of cross-browser and mobile-friendly HTML5 web applications.  You will find components like appbar, slidebox, deck, tooltip, and more.  Web components are the future of HTML and JavaScript widgetry -- why not use them in your apps now by incorporating Brick?
TogetherJS
TogetherJS blew me away at MozSummit.  This excellent JavaScript utility allows for real time collaboration with minimal effort in implementation.   Each user within the shared page has their mouse displayed as it moves, changes form values, clicks around the page, etc.  As TogetherJS promises:  just copy and paste TogetherJS's JS library and HTML snippet into your site or app to give it out-of-the-box collaboration tools and features:

<!-- Pull in TogetherJS -->
<script src="https://togetherjs.com/togetherjs-min.js"></script>

<-- Create a button which lets the user start TogetherJS -->
<button onclick="TogetherJS(this); return false;">Start TogetherJS</button>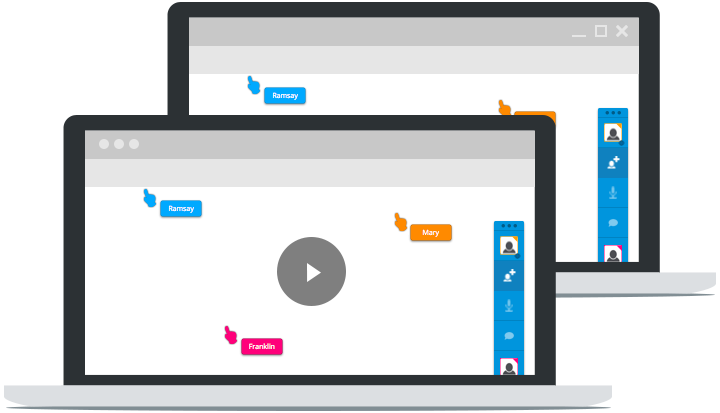 You can see this feature in action at JSFiddle;  create a fiddle, use the collaboration feature, send the URL to a friend, and experiment away!
Open Badges
Open Badges is a project looking to standardized the way badges are given and stored on the web.  Imagine being able to earn and display badges from all aspects of your life (schooling, gaming, working, etc.) in one standard place -- that is a goal Open Badges can help solve in the future.  You can set up your own badge site and start issuing badges today, so check it out!
These projects are incredible in their own ways and make me feel proud to call myself a Mozillian.  As with every Mozilla project, they are all open source and ready for contributors and bug reports.  Which of these projects do you find most useful?  What is most exciting?  Please share your thoughts!