MacBook Pro: Week 1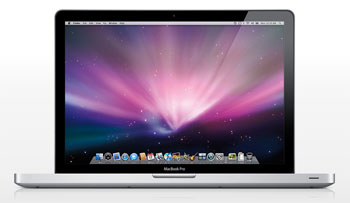 If you follow me on Twitter or grace us with your presence in my IRC chat room, you know that I'm beginning the change from XP boy to OSX man. My text-reader voice is changing and I'm finding apps where there were no apps before. I thought I'd give you a few thoughts after one week of Mac fanboy-hood.
First and foremost, I want to thank everyone for the tips they've given me. Thanks to everyone that posted tips in the comments of this post. Thanks to Valerio Proietti for coercing me into getting a MacBook Pro. Thank you to Thomas Aylott for his help with TextMate and its bundles. Thank you to Jeremy Parrish for his tips and help. I'd be nowhere without you!
I love it. I absolutely love this machine.
I know that Apple installed the OS for me, but I still think it's great that I was up and running in 5 minutes.
For the longest time, I thought the OS' animations (maximizing and minimizing from the dock, attention bouncing, etc.) were all about cuteness. Now I know what's it's called: user experience.
I love how easy it is to install an application. With Windows, you generally have to go through an ugly installer and then go into C:\Program Files to access application files. No more of that. Drag it into the applications folder and move on....
...um, how do I safely uninstall an application? Sorry GIMP...
AppFresh is outstanding. Can you see a Windows program doing that? Hell no!
I think it's great that I can fire up VirtualBox to install any OS under the Sun with ease. I had Windows 7 on a virtual drive in no time.
My girlfriend's jealous of my MacBook Pro.
In speaking with everyone, I realized that there was less variety. Everyone recommend Adium for chat, for example. And in this case, I've found less variety to be a good thing.
TextMate rocks...
...but the transition from jEdit will be tough. I'm a jEdit powerhouse and I'm much slower with TextMate. I love some of TextMate's functionality, understand it's a superior product, and will continue to work with it.
I did install and customize jEdit though. In this case: Java FTW.
Someone told me the next version of the OS will only be $30. That's outstanding business on Apple's part.
I love using iTerm. The terminal has been a huge asset already. I've always used Cygwin but never felt comfortable with it. That's not a knock on Cygwin....I simply feel like it's a forced product.
The video/webcam that's built in is really nice.
The number of buttons involved in shortcuts is a bit daunting. Shift, Option, Control, Fn, and Apple keys. On XP it's only Shift, Control, and Alt. I know that sounds weak but it's been a bit hard for me so far.
I look forward to continuing to learn the Mac way of things.
Here's what I've installed so far: http://osx.iusethis.com/user/davidwalsh . Let me know what I still need. Let me know what I don't!
So those are my impressions so far. I can't wait to hear your impressions about my impressions.