Best Web Apps and Work Hacks for Web Design Teams
One way some project managers seek to improve design team productivity is to require team members to work harder or for longer hours. Taking this approach however will almost always have a damaging effect on overall team productivity in the long run. The more forward-thinking project managers realize that a more beneficial approach is to make certain team members have the tools necessary to do their work, and then let them get on with it.
Three Tips to Improve Your Team's Productivity
The productivity tips and guidelines and top-of-the-line software apps presented here are tools, that when used properly, will improve a team's productivity, and will do so continuously.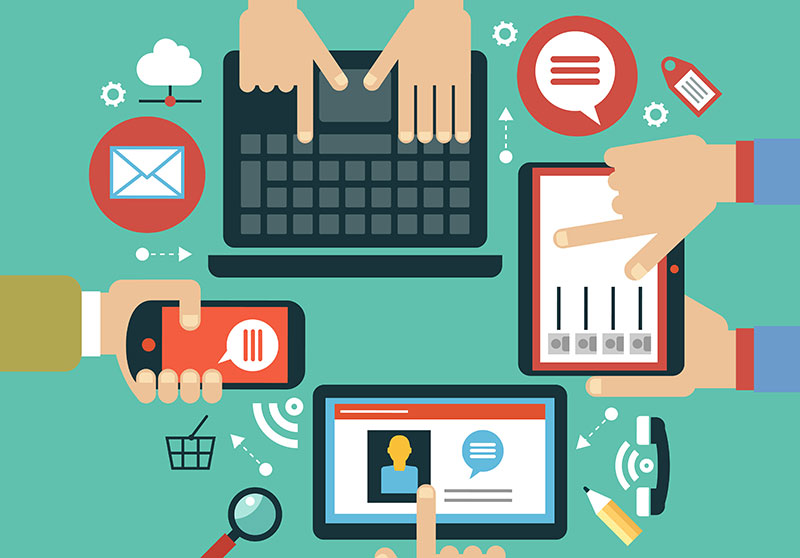 Break a Project into Small Tasks - Jigsaw puzzle enthusiasts work on small sections of a puzzle at a time, often starting with the border pieces. They know they can complete a puzzle more quickly than they would by working in a random or haphazard fashion. This also holds true for website design. Break your project down into manageable pieces. 
Automate what You Can - Although repetitive tasks are often essential, they can also be time wasters. Select software tools that automate these tasks, and see your team's productivity suddenly improve while their complaining just as quickly diminishes.
Use the "Touch it Once" Principle - Software designers can fall victim to a messy desk situation just like anyone else. Items put on hold are either forgotten, or get lost in the shuffle. Applying the "touch it once principle" keeps your work organized. You don't waste time and negatively impact team productivity by having to schedule tasks that should have been completed long ago. When presented with a task, act on it, schedule it, or discard it.  Don't just stick it into your "To be looked into Later" tray.
Follow these tips until they become a habit. In the meantime, browse our list of seven of the best productivity apps you will find anywhere.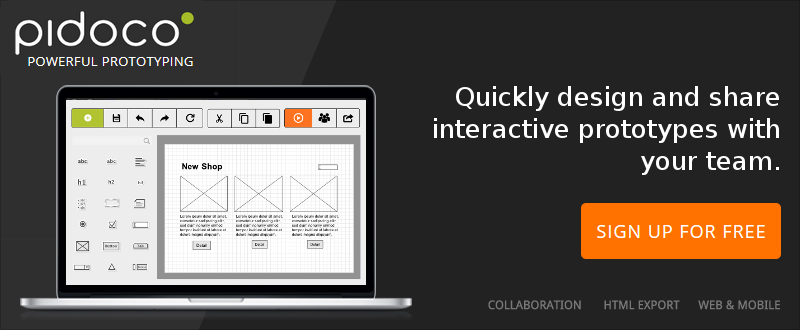 Pidoco is a web app that allows design teams to work together on wireframe design and interactive UX prototypes in real time. Designers in more than 50 countries prefer using this top-of-the-line productivity tool for their prototyping activities. They do not have to worry about downloads, installs, or the latest updates. This web app does these tasks for them, just as it will do for you. Since you can gain access to this tool from anywhere an Internet connection is available, you will be able to take full advantage of Pidoco's collaboration features even when you are away from the office.
Design features include a library of 400+ interface elements and icons, an excellent selection of templates, and a prototype-building approach that requires no coding. Keyboard, mouse, and touch interactions and screen transitions allow a designer to create realistic prototypes for previewing on browsers and mobile devices.
There are four plans to choose from, but you can sign up for a free trial run to see which plan will serve you or your team best.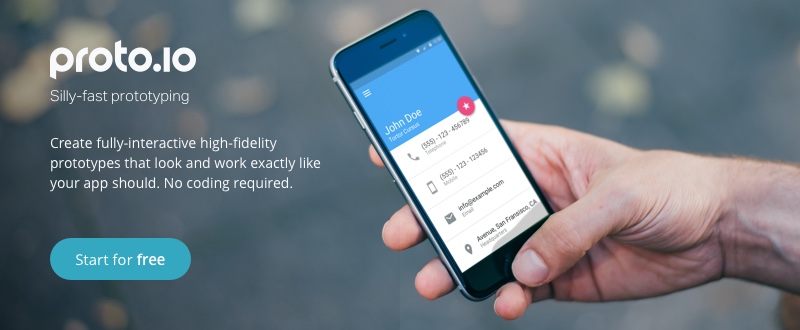 An interactive prototype's value is often measured by how close it comes to emulating a real app. proto.io lets you take wireframe and mockup design to the next level. It provides everything you need to create attractive, fully-animated and fully-interactive prototypes.
It only takes minutes to create a prototype that is ready to be shared with team members or clients, without having to write a line of code. Anything you can display on a screen can be animated and manipulated by mouse or touch events. proto.io is ideal for use by design teams. Its collection of collaboration tools makes information sharing in real time straightforward and problem free. To see if this premium web app is the right solution for your team, try it for 15 days at no cost.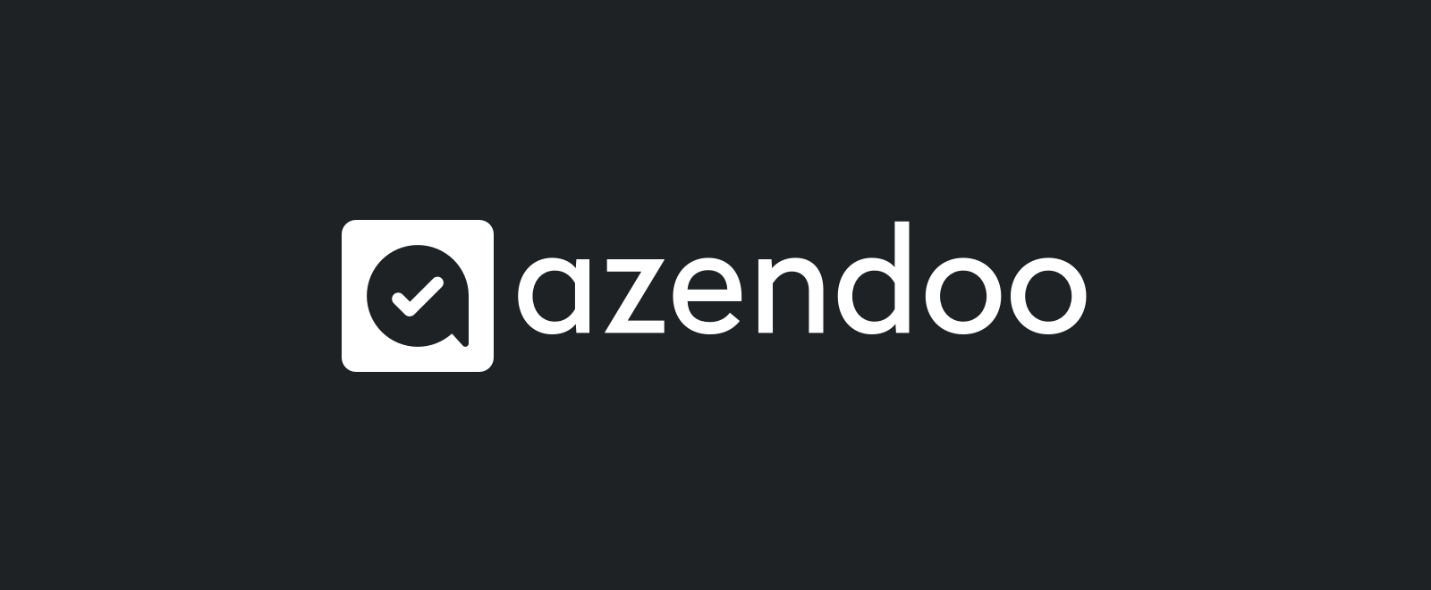 Marketing teams, marketing agencies, design teams, or anyone interested finding a task management tool that will give team collaboration a definite boost, will like Azendoo. This web app is not a design tool. What it does is to enable project design activities to function more smoothly and efficiently. It lets your team focus on design instead of working on tasks that, while essential, are not design related. Since Azendoo integrates with thousands of other tools and applications, you should have no trouble incorporating this project management app into your existing design toolkit.
The guiding philosophy behind this app's creation was to help design teams stop working on working and start working on design. It is a time saver and a productivity booster. If you are looking for a tool that will enable you to keep project stakeholders in the loop, it will be time well spent to give Azendoo's free Starter Plan a trial run.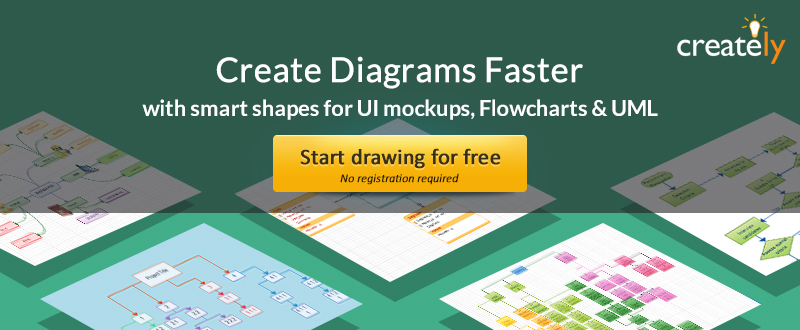 Creately is a web app that focuses on design and collaboration, and it addresses both tasks admirably. This online application allows a designer, or a design team, to rapidly create wireframes or mockups, and do so with surprising ease. This app also enables team members to collaborate in real time and makes it possible for project leaders to make the decisions that need to be made, even when they are away from the office. Take advantage of Creately's free trial offer to learn more about its capabilities and to see if it is the right solution for you.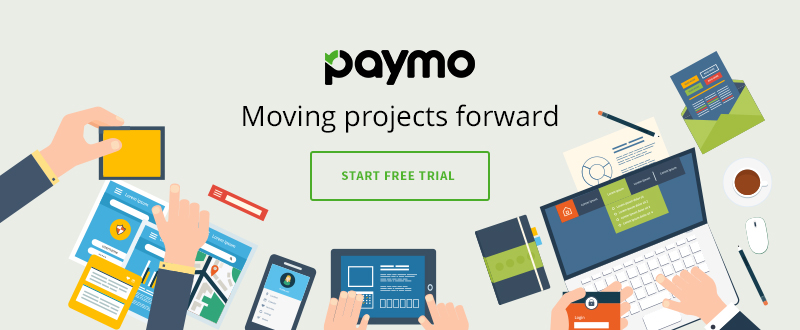 Paymo enables project managers to focus on decision making and applying their leadership skills, rather than having to take the time to peer over shoulders or conduct frequent meetings in order to track project performance. Paymo is a task management app. It will track performance, track expenses and costs, track time, and even take care of invoicing. Furthermore, it can do all of these things in 18 languages. If you are looking for a tool that does a lot, check this one out.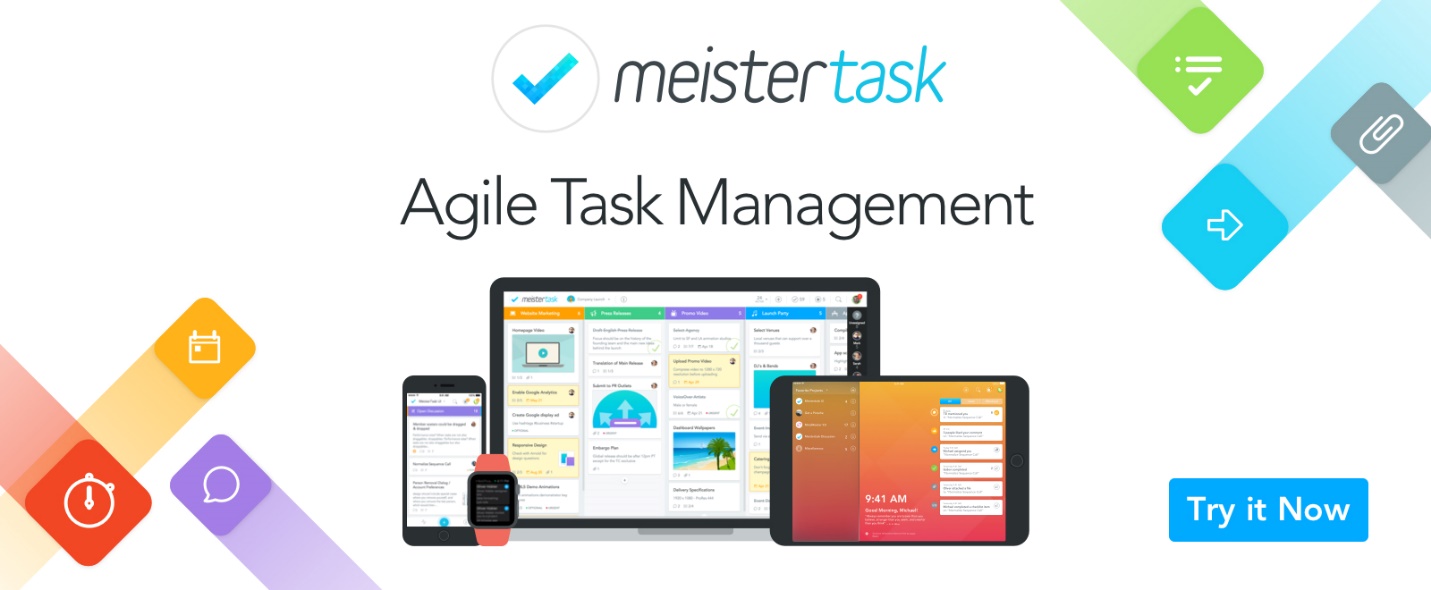 MeisterTask is a collaboration and task management tool made to order for project managers as well as for project team members when there is a need to track progress on various tasks. Information displayed on this web app's project boards can keep everyone on the same page, while the information on MeisterTask's dashboard is an invaluable aid in helping a project manager plan the day's events. MeisterTask, together with the mind mapping app MindMeister, will help design teams go directly from brainstorming to execution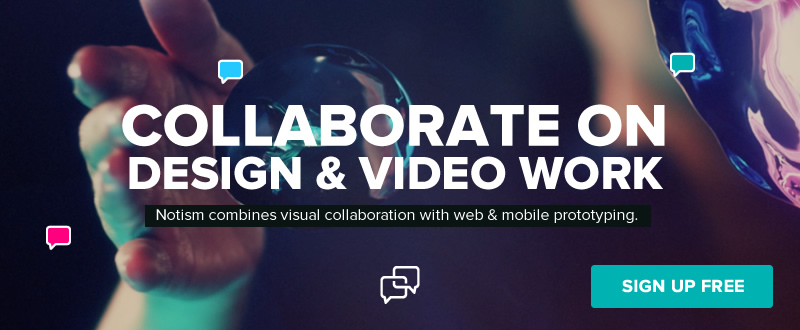 Notism is yet another web app that combines prototyping features with communications capabilities, but with a twist. It is ideal for a designer who wants to take information presented on a static screen and turn it into an interactive prototype without any need for coding. Designers, design teams, and project managers will also like its real-time collaboration features. The video collaboration feature is especially impressive. It can be a real time saver and a game-changer for team productivity. You can try it for free.
Conclusion
Whether you want an all-in-one tool, or one that mostly focuses on task management or collaboration, you will find it here. These web apps are quality tools. If you select one that addresses your immediate needs, you won't be disappointed. You are encouraged to find out more by visiting the websites and taking advantage of the free trial offers.
You will soon discover why designers who use these web apps see them as productivity enhancers, and how they will make it possible to work smarter instead of harder. Keep the three productivity tips in mind too. Following these tips can make the performance of any of these software apps even more impressive.