What If: Twitter Started Charging $5/Month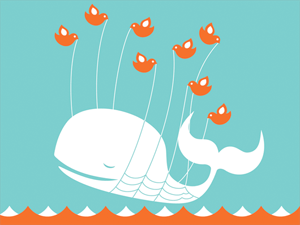 As you probably know, I'm a fairly frequent Twitterer (@davidwalshblog). I tweet about programming, life, sports, and even reply to my friend's dog's tweets. I promote MooTools via @mootools, promote Script & Style via @scriptandstyle, and follow what people are saying about me via the search RSS feed. Twitter has become a major piece of my reader interaction and everyday MooTools promotion.
And I'm one of the sane tweeters too. You can run into people like Rey Bango and Chad Ocho Cinco that tweet so often that they've been single-handedly responsible for taking Twitter down. I don't auto-tweet blog posts either so those type of tweets don't fly into your Twitter homepage. My point is that I don't use my Twitter account for promotion nearly as much as many other persons or industries. Twitter has become, in many cases, a better traffic-driving tool that Google Adsense...and Twitter is free.
But what if Twitter wasn't free? What if Twitter charged $5/month per account? Or $1? Or $10?
I think there would be some initial backlash, especially from periodical users. Twitter knockoffs would pop up left and right, none of which would come close to capturing the market share like Twitter. Users would revolt and hit message boards and IRC expressing their fury. Twitter application creators would scream bloody murder.
Obviously $10 per month is far too much for 80% of Twitterers. Most don't care enough to stick with a service that will cost them $120 a year. The other problem would be collection; Twitter would need to deal with currency conversion and methods of payment. On the flip side, $1 or $2 wouldn't be worth it to Twitter to spin the pot. But $5 is a good medium as far as price. Businesses would gladly pay the $5 per month to promote the product, even if there was a significant dropoff in the number of users. Celebrities have so much money they'd just pay it.
What this would really come down to was how hooked an average user was to the service and how valuable the networking, promotion, and searchable information was. I'd definitely pay the $5/month -- $5 is not a significant amount of money to me and I'd gladly shell out a $5 bill not to see ads all over the place, be able to connect with other devs, and to promote the love of my life: MooTools.
Implementing a fee probably wouldn't work at this point. The USA national media just started to recognize and use Twitter and Twitter shouldn't risk losing that momentum. Moreover the service itself isn't stable enough to charge for. Twitter has, however, become an invaluable tool to those that use it effectively.
What do you think? Would you pay for Twitter? How much?