SSLmatic: Quality, Cheap SSL Certificates and Giveaway!

If you develop eCommerce websites or create applications that request sensitive user information, you're probably well aware of the advantages of using SSL certificates. For those that haven't, SSL certificates:
Encrypt data between the user's browser and the web server.
Provide peace of mind to users giving their information.
Are required by credit card companies for vendors accepting credit card payment (even for vendors that have a website WITHOUT eCommerce.
Purchasing a SSL certificate can be quite an investment. Many vendors charge up to $400 per certificate. That's right: $400! Peace of mind and security are important but that doesn't mean that SSL certificates should put a dent in your budget. Enter a great SSL certificate vendor called SSLmatic.
SSLmatic provides cheap SSL certificates for as low as $20/year. You'd think that for that cost you'd get a no-name, generic certificate but that's not the case. SSLmatic provides SSL certificates for some of the web's largest SSL vendors:
| Provider | Regular Price/Year | SSLmatic Price |
| --- | --- | --- |
| RapidSSL | $80 | $19.99 |
| GeoTrust | $299 | $99.99 |
| Verisign | $399 | $349.99 |
SSLmatic also simplifies the SSL certificate request process. Here's how it works: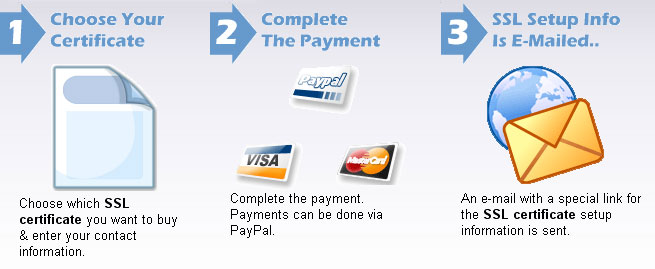 Already have a security certificate? No problem! SSLmatic also offers renewal certificates. As always SSLmatic allows you to lock in your SSL certificate for just one year or up to five years. For more information on specific policies, check out the SSLmatic website.
SSLmatic asked me to try their service and it was by far the easiest non-hosting-provider-forces-you-to-use-them-so-they-hold-you-hostage SSL certificate process I've ever completed. I answered a couple quick questions, provided SSLmatic a CSR, and in no-time I had my SSL certificate waiting for me in my inbox. From there I was able to navigate to my Plesk administrative panel, plug in my SSL certificate, and I was done. No hassle -- just plug and play. Sweet!
SSLmatic SSL Certificate Giveaway! Yep -- Free RapidSSL Certificates!
SSLmatic would like five David Walsh Blog readers to give their service a shot. Want to be one of the chosen five? Easy and fun. In a comment below, post your favorite actor/actress' name with "FTW" after it. For example:
Christina Ricci FTW!
Winners will be chosen at random and posted Friday. Thank you to SSLmatic for this opportunity and good luck to everyone that comments!