14 Top-Of-The-Line Multipurpose WordPress Themes
A typical multipurpose WordPress theme is versatile, flexible, loaded with popular features. This enables you to create any type of website, portfolio, or blog you have in mind, or are commissioned to build.
Specialty themes have their place too, especially when your design activities are confined to a specific website type or niche (e.g., real estate). Give both types of themes a look.
You may decide one or the other will suit your needs best; or even one of each.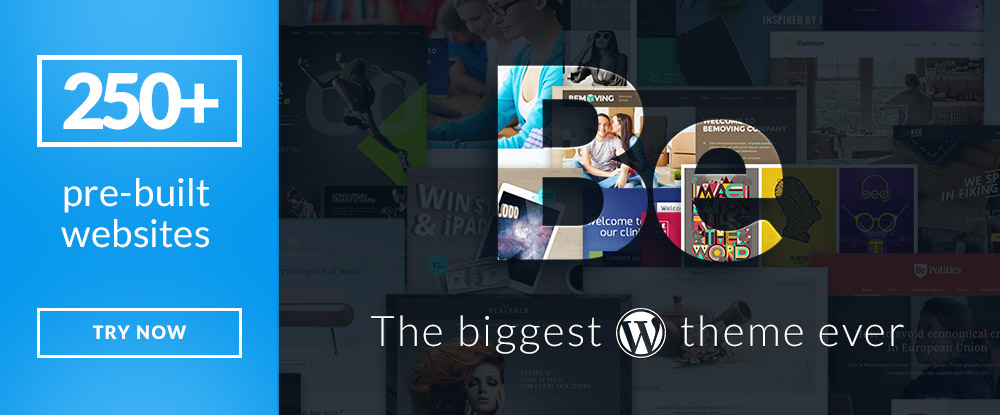 Be Theme is a website builder's dream. If it's a premier, all-encompassing multipurpose WP theme you're looking for, you need go no further. Be's architecture is complex, and of the highest quality. Yet, this theme is easy to use, and it will save you a ton of time.
Highlights include Be's 250+ professionally-designed, customizable pre-built websites. These pre-built websites cover most website niches and styles you're apt to encounter. Most are multi-page affairs, complete with the basic functionality you'll want in your finished product; and, they can also be used for prototyping when you are looking for early feedback from a client. 
Once a pre-built website is installed (with a single click), Be's Muffin Builder, Options Panel, 200+ shortcodes, and other features take over. If you want to build a page from scratch, the Layout Configurator makes doing so a piece of cake.
With Be Theme, you can create an awesome web page in no time at all. In fact, you can have a website up and running in 4 hours.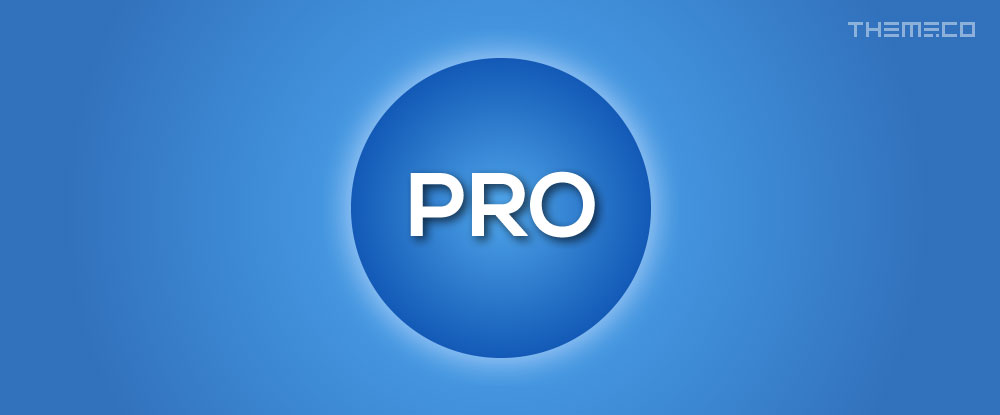 Pro is a revolutionary, game-changing multipurpose theme that was built for pros; and those who aspire to become pros. It can accurately be described as fast, powerful extensible, or modular; or all the above. You can work with it from the comfort of your favorite browser. You don't even need a special app to do so. Everything's ready for you to get started.
Pro's 3 main components are the Header Builder, the Content Builder, and the Footer Builder. All three are easy to work with, as are the reset of this theme's powerful features. With the Header Builder, you can create header layouts that range from the simplest, to the very complex. The drag and drop Content Builder, with its workflow optimizing capabilities, is certain to boost your productivity. The Footer Builder enables you to impress your clients, by demonstrating that footers can be beautiful creations. 
These primary components are supported by dozens of free extensions and powerful presets (building blocks). A top-of-the-line support team is there to help as well.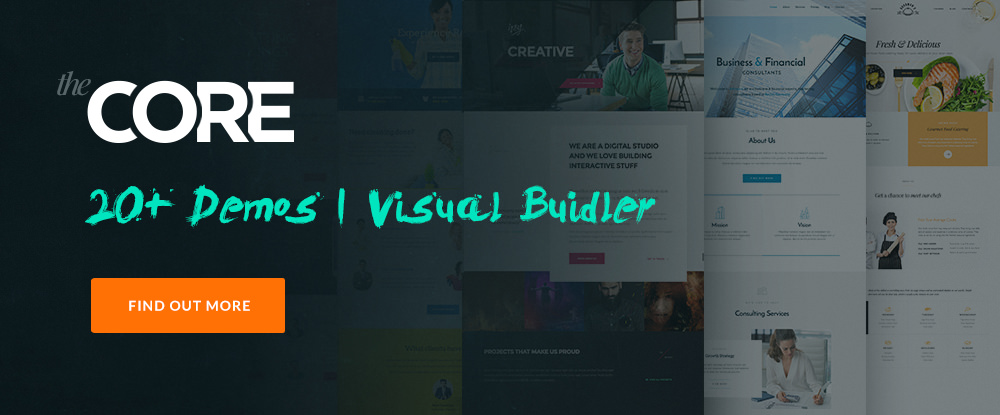 The Core gives you everything you've ever wanted or needed in a multi-purpose WordPress theme. Its outstanding selection of 20+ handcrafted, customizable websites will make you feel like you've purchased an equal number of WP themes; instead of just one. Key business and industry niches are covered, along with restaurant, real estate, sport, magazines and wedding. Charity and creative websites are represented too. 
An advanced version of Visual Composer is your page builder, plus you'll have page layout options, header and footer options, and a selection of sliders to work with. There are plenty of other design options and elements as well, including shortcodes, so you'll never need to worry about having to touch a single line of code. 
The Core will help you make real just about any type or style of website you can envision. You're welcome to visit the Test Lab to take it for a free trial spin.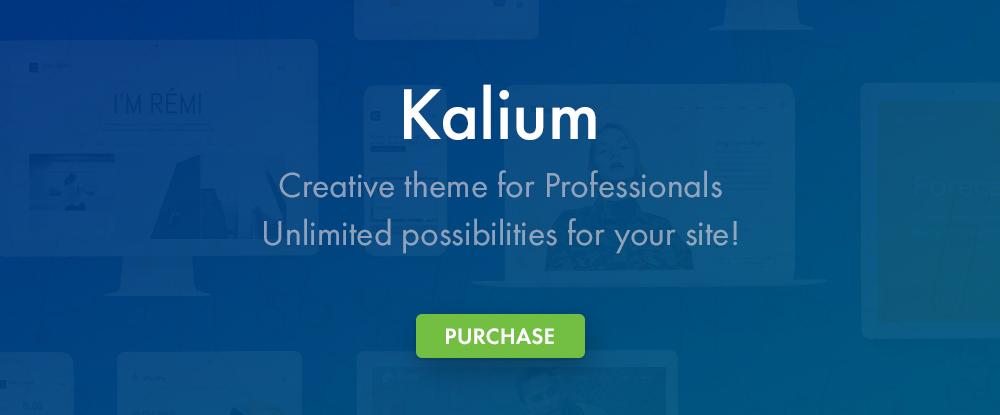 If your efforts to build a successful online shop, and engaging creative website or blog, or a stunning portfolio, have not always been successful, maybe it's time to switch to Kalium.
This creative multipurpose website will deliver what you've been looking for, and help you do so in minutes. All the tools and materials you need are in place; including demo sites, website, blog, and portfolio layouts, and hundreds of design options and elements.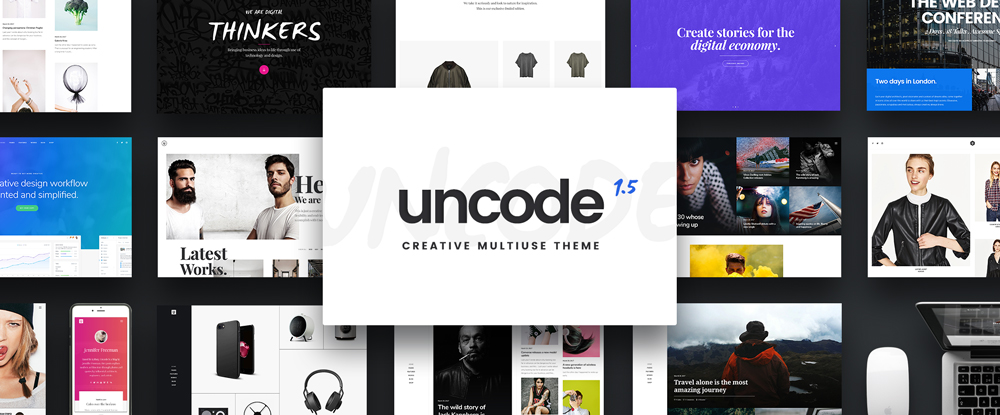 Uncode's website concepts offer a new way to approach web design. These customizable concepts are organized into Creative, Classic, Shop, Blog, and Portfolio categories.
They are complemented by a great selection of special pages and design elements. Pick what you need, and let Visual Composer and the Hierarchical Options System do the rest. Uncode is a pixel-perfect theme. Your websites will be pixel-perfect as well.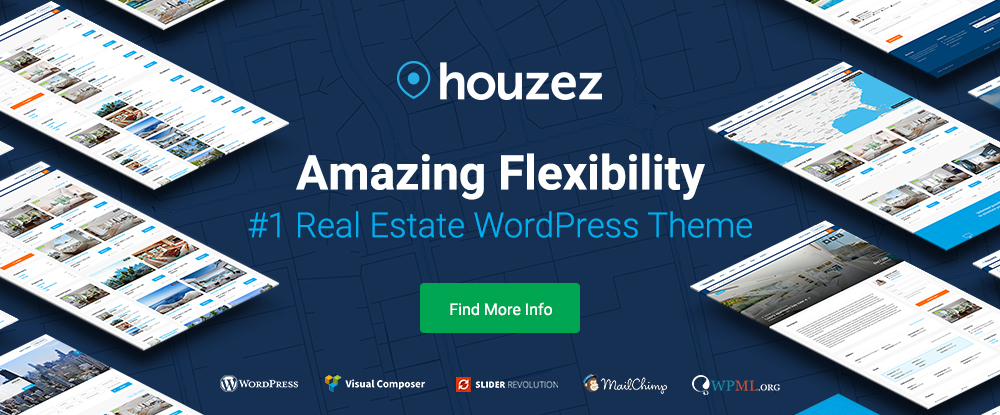 Any web designer who has a demanding and difficult realtor or real estate agency client to work with, will be amazed at how quickly a website created with the help of Houzez can turn that person into a purring pussycat.
Houzez is a specialty WordPress theme that will enable you to deliver a responsive, real estate-oriented website in short order; with the features and functionality needed to help your client showcase properties and make sales.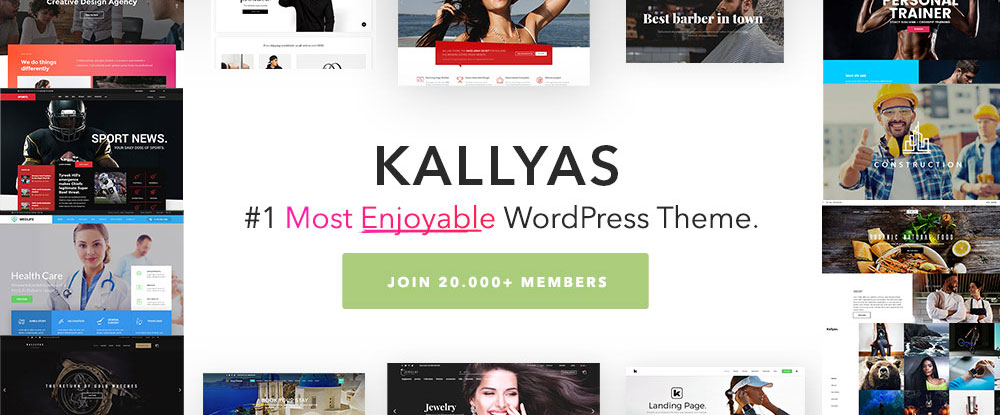 Kallyas is a multipurpose WordPress theme with a secret; even though 20,000+ very satisfied users are in on it.
Kallyas is fast, flexible, and easy to use. You can unleash your creative instincts, and let Kallyas take care of your website's infrastructure. The secret? When your finished website pages load, only the essential resources they require are loaded. The result? Your users enjoy lightning-fast website performance.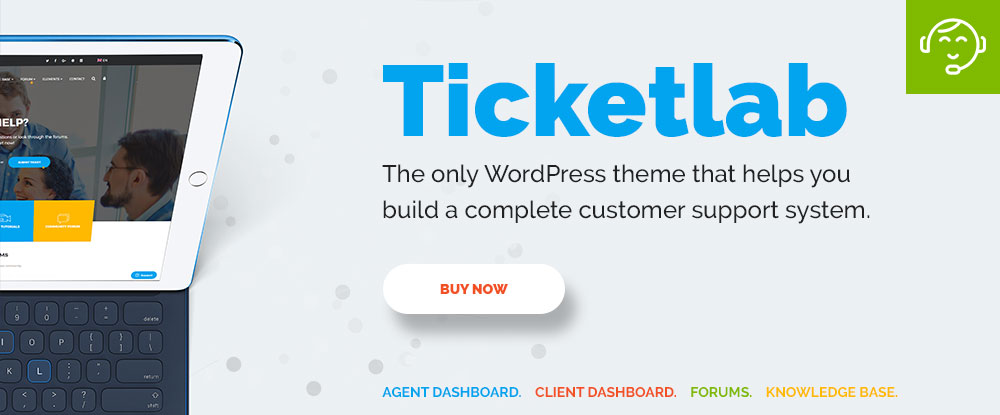 TicketLab helps you put in place a complete customer support system. It is, in fact, the only WordPress theme that enables you to do so. Integrate TicketLab with Trello and GitHub, establish a forum for customer feedback, and sync with Zendesk. You'll no longer be entirely on your own once you've launched your website. TicketLab allows you to dramatically smooth out your customer support workflow.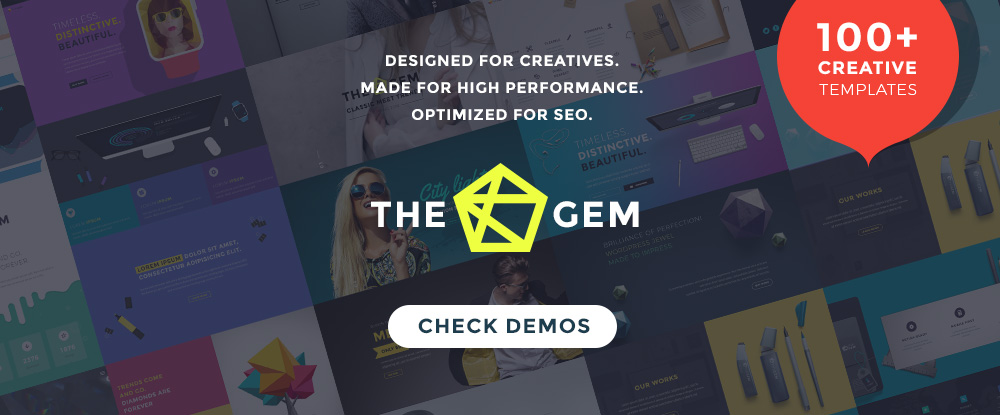 TheGem is a visually stimulating, professional responsive WordPress creative multipurpose website theme. TheGem is a robust platform for the development of beautiful modern websites in a speedy and uncomplicated manner and with plentiful freedom for visual and creative styling.
The authors had in mind a veritable Swiss Army knife of website-building tools when they produced TheGem. There's a great selection of blog and portfolio layouts, plus 50+ design concepts and 150 demos to get you off to a solid start.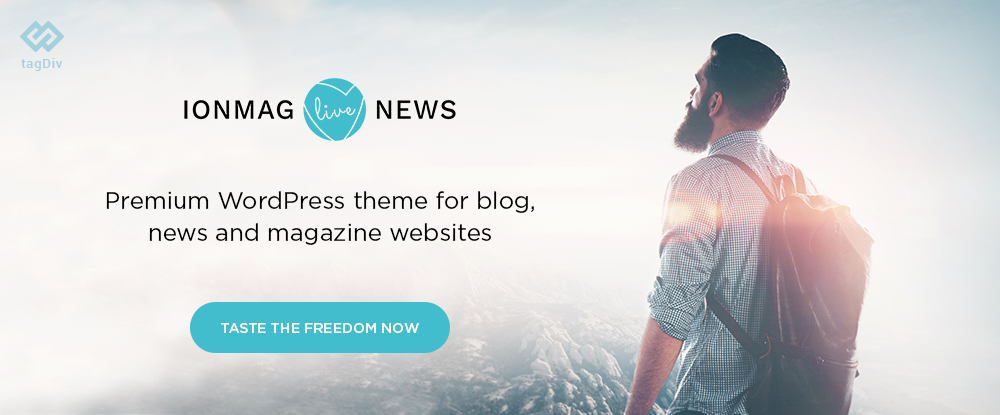 Some WordPress themes offer layouts you can use for a magazine-style website, but none of them can equal a template built for the publishing industry like ionMag.
Starting with TD Composer, the frontend page builder specially developed for news, and five pre-built demos that serve as baselines for your website, ionMag is a complete solution you must try. Mobile friendly, AdSense ready, responsive, the theme is intuitive and easy to use without any coding skills.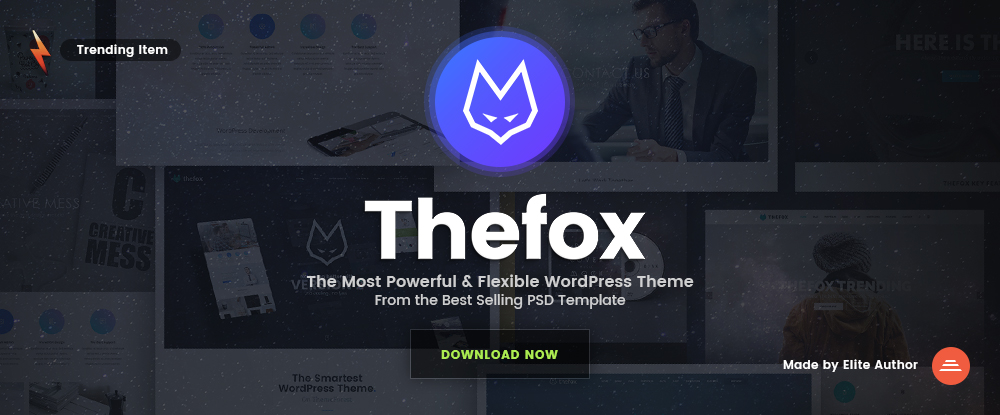 TheFox is smart. It's been cleverly designed down to the very smallest of details. It has the features you need, and doesn't load you down with things you don't need.
The 30+ pixel-perfect demos, special pages, and design elements give you more than plenty to work with, and Visual Composer and the premium plugins make it possible for you to design any website you can think of. There's no need for coding either. That's smart.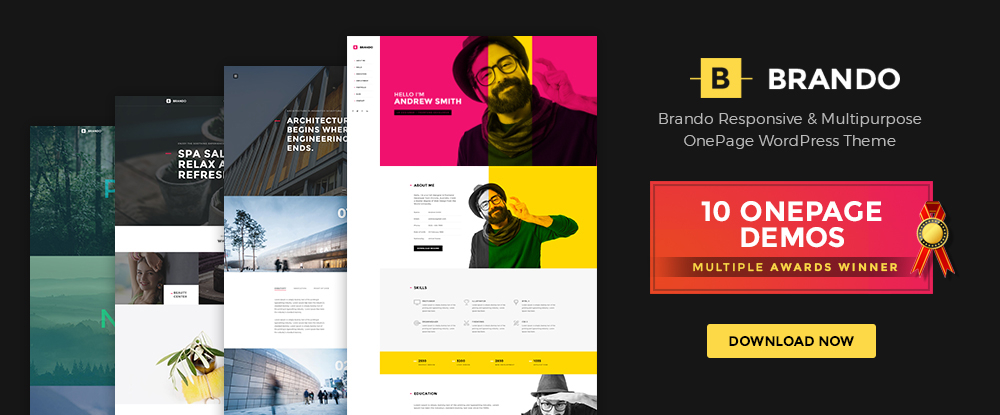 If you have one page or even multi page websites in your to-do list, Brando belongs in your tool kit. This fast-loading, responsive, multipurpose WordPress theme from ThemeZaa is cross-browser compatible, and mobile friendly.
Brando is also an ideal choice for creating blog and portfolio websites. Visual Composer is its page builder of choice, there's a great selection of one page demos, along with shortcodes and other goodies; and there's absolutely no need for coding.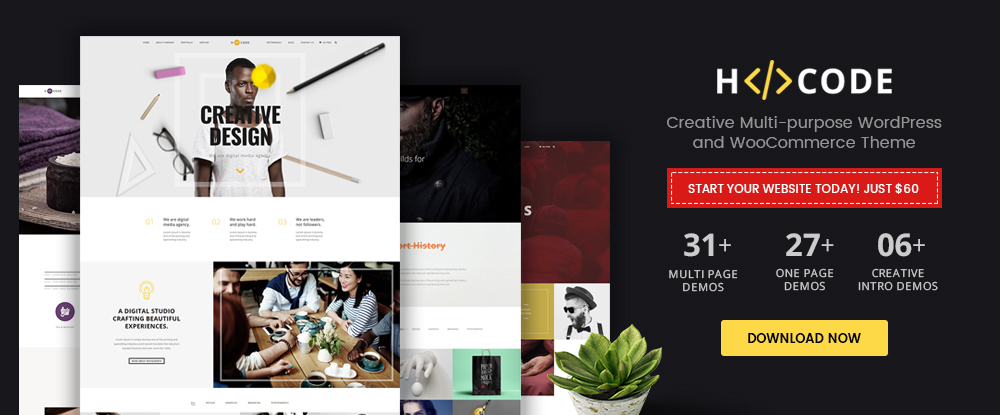 H-Code is an ideal choice for building both one page and multipage websites; especially the former. This carefully designed, tech-savvy package, includes an outstanding selection of intro pages for e-commerce and creative sites, together with 200 demos and a host of shortcodes and other design elements and settings.
You'll also have an assortment of powerhouse plugins at your disposal, including WooCommerce, Visual Composer, WPML, and Revolution Slider. H-Code is lightning fast and search engine friendly.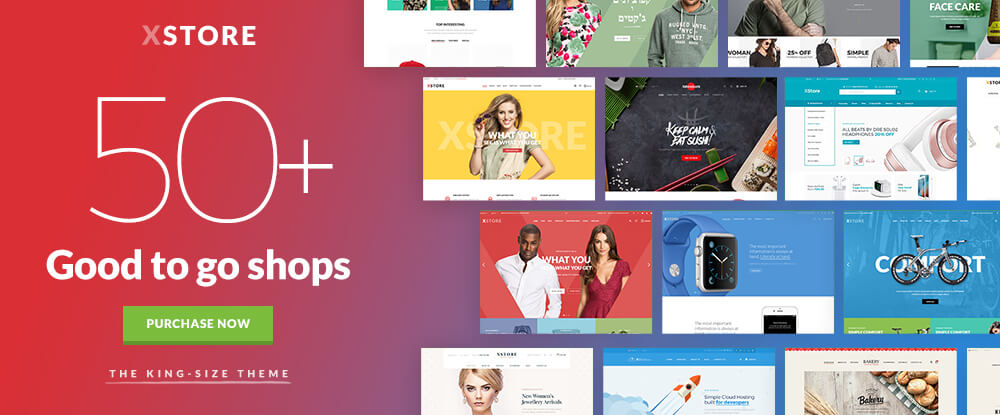 When you're considering launching an online store, taking full advantage of a WP theme that specializes in e-commerce website is generally your best bet.
The XStore team has come up with solutions to many of the problems web designers face in this area. XStore is an aesthetically minimalist theme that features 50+ good to go shops, supplemental page layouts, and the tools you need to build a great online store; and do so quickly.
Conclusion
With so many choices, you may begin to feel overwhelmed. Information overload is commonplace in our society, but if you step back, and take a closer look at one or two themes that look appealing, and visit the websites, you're more apt to find a good match to what you are looking for.