Conference Giveaways: Fluent Conference and Velocity Conference!
Two of O'Reilly's amazing conferences are about to hit San Jose:  Fluent and Velocity.  Each conference is taking place in San Jose, CA from June 19-22.  You'll learn a ton from the amazing speakers, network with developers like yourself, and have the opportunity to get hands on in training sessions.  Better yet, you could be going for free!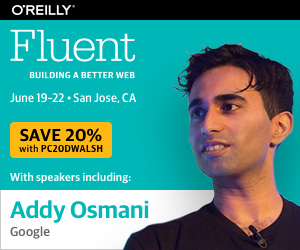 If you're a front-end lover like myself, Fluent is the place to be.  You'll have a chance to learn the newest JavaScript and CSS techniques from Etsy, Google, Facebook, Mozilla, Netflix, and more!  If you work on the web, you face an overwhelming array of new tools and frameworks. Fluent will help you understand what works best for your specific needs—and help you quickly get up and running.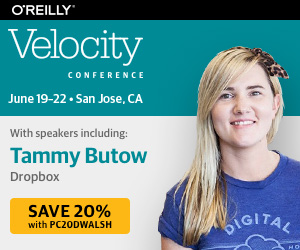 Velocity focuses on the magic in the background: DevOps, Security, Systems Engineers.  You'll have a chance to learn from engineers at Dropbox, Slack, Microsoft, Intel, Twitter, and more!  As our systems grow increasingly large and distributed, Velocity helps you develop ways to build, manage, and continually adapt to this new reality.
The Giveaway!
O'Reilly is letting me shell out two Bronze passes for the upcoming conferences: one for Velocity and one for Fluent.  Want to enter?  In the comments section below, share which talk you're most excited to see at the conference of your choosing.  I'll be picking the winner in short order so be sure to enter ASAP!  Good luck!
If you prefer to simply sign up today, use code PC20DWALSH to receive a 20% off discount!