apple-itunes-app Meta Tag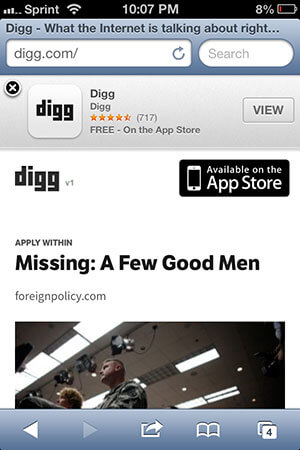 Whenever you visit the website of a vendor that provides an iOS app, you're either hit by an alert or ugly popup saying "Download our iPhone App!"  It's great that they want to pitch their iOS app but the lack of structure and uniformity in the advertisement is ugly.  Apple recently introduced a proprietary META tag which triggers a uniform advertisement for a vendor's iOS app within mobile Safari.

<-- App ID (required), Affiliate Data (Optional), Argument (Optional) -->
<meta name="apple-itunes-app" content="app-id=myAppStoreID, affiliate-data=myAffiliateData, app-argument=myURL">

<-- Digg's tag -->
<meta name="apple-itunes-app" content="app-id=362872995, affiliate-data=bevbOqLt02I, app-argument=digg://">

The content of I'm a huge fan of this type of strategy.  The more uniformity, the better, especially when I get to avoid an ugly prompt within my mobile browser.  Digg uses this META tag and I hope many more vendors join the club!