Thoughts on Mobile Devices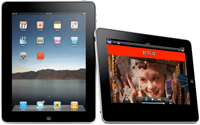 Whether I'm smug enough to admit it or not, I'm living the iLife.  Over the past two years, I've been rocking both the iPhone and MacBook Pro.  I was recently gifted an iPad and a Samsung Galaxy Tab, only increasing my ever-growing smugness level.  After playing with these new toys for a month, I thought I'd share my thoughts on these mobile devices;  the good, the bad, and the ugly.
Mobile devices like the iPad and Tab seem like the first device that had seemingly everything in front of it:  knowledge of what users want on mobile devices, a platform to support those applications, and high demand for them.
The iPad seems very, very much refined.  The Galaxy Tab, and other Android-powered devices seem very rough around the edges.
At this point, I very much approve of the regulation of iPad and Droid apps via their respective stores;  they're extremely convenient to those non-developer types...
...although I wouldn't mind an easier way for us developer-types to have easier access to non-supported applications.
I've not suffered once from not having Flash support on my iPad or iPhone.
I don't know a ton about application development, but it would be nice if Apple would allow the frameworks they've been banning.
Having an iPhone makes going shopping with my wife 100 times more bearable...as long as my phone is charged before we go...
I cannot believe that Facebook does not have an iPad app.  Sure, Facebook's website is iPad compatible, but an iPad application is desperately needed.
I do quite like the Tab's pull-down notification pane -- it's a great way to get mass updates at a glance.
It was extremely easy to figure out how to delete iPad and iPhone apps...yet I've not figured out how to delete apps on the Tab yet.
Switching between the screen and the home / back / search tabs on the tab hardware seems slightly awkward.
I desperately want to learn how to quickly make an iPad app.
I am hopelessly addicted to Words With Friends.
ATT is robbing people with their mobile usage plans.
NetFlix is too awesome on iPad -- quality is top notch.
CNN, CNBC, New York Times, Twitter, and the Weather Channel have created outstanding iPad apps.
With a bit of work, I think Android has a chance at matching Apple's product.   Well, by "bit", I mean "a ton."
Those are my initial thoughts.  Let me know if you have anything to add or if I'm dead wrong!