Mighty Deals: Killer Photoshop Actions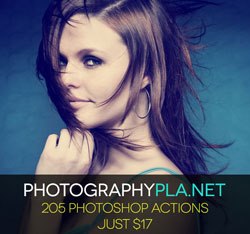 Oftentimes I wish I was a designer instead of a programmer.  Designers get to make beautiful, touching imagery.  Designers get the epic cinema-style monitors.  Designers get to wear thick black glasses and weird clothing and somehow no one thinks anything of it.  Designers get to create incredible effects like this.  Designers get to sit by windows and look out at the beautiful day because they need inspiration, while nerdbots are banished to the musty boiler room.  But I'm not bitter.  My design abilities are limited to the 20 filters provided to me by Instagram.  Brilliant, I know.
Mighty Deals is running a deal on 205 Killer Photoshop actions to allow both designers and developers to enhance photos and illustrations.  Details of the deal include:
$17 price point

205 actions in total
14 different action sets, you're bound to find more than just a few that you'll enjoy. This bundle includes the following actions: Fashion, Autumn, Vintage, Sunset & Sunrise, Black & White, Faded & Hazy, Light Leaks, Monochromatic, and more!
Do check this one out.  I'll be grabbing this as Mrs. Walsh is due in a month and we'll be taking loads of photos; these actions should allow me to add a bit of flair to otherwise basic photos!